Welcome to race week!
Below are details for the week and race day
Registration:
- On-site registration is available in Sylvester Park from 12:00 - 5:00 P.M. on Saturday.
- Online registration is closed.
- There is no race day registration.
2013 RACE CONFIRMATIONS

Marathon

1/2 Marathon

5-Miler

Kids Dash
2013 RACE RESULTS

All Events
Kids Run
- 4:00 p.m., Saturday, May 18th
- 1.2 miles at Heritage Park (Olympia, WA)
- Race open to anyone 8th grade and younger
- $10 or $5 with three cans of food for the Thurston County Food Bank
- Free downloads of photos available, thanks to South Sound Running. Photographer: myEPevents
Marathon, Half Marathon, and Five Miler Packet Pick-up
At Sylvester Park on Washington Street between Legion and 7th in downtown Olympia:
- Saturday 12:00 - 5:00 P.M.
- Sunday 6:00 - 7:30 A.M.
Start - all races start on Washington St. between Legion & 7th
- Marathon: 7:00 A.M.
- Half Marathon 7:45 A.M.
- Five Miler: 8:00 A.M.
Clothes Drop
- Drop off & pick up at registration area, mark bag with name and race number
- Mile 4 clothes drop off, pickup at registration area
Water Stations: Even miles & mile 25 (water & Ultima), GU @ miles 12 & 18
Sani-cans: At the start/finish and every 2 miles
Pacers: 3:20, 3:30, 3:45, 4:00, 4:15, 4:30, 4:45, 5:00
Course Closes at 1:30 P.M.
- Marathon runners must maintain a pace of 14:30 minutes per mile to complete the event
- Runners not at Mile 22 by at least 1:00 P.M. will be given a ride back to the finish
Photographs
Capital City Marathon and South Sound Running are bringing free race photo digital downloads to you this year! my EP events will be on the race course for the marathon, half marathon, five miler, and kids run taking the same fun and exciting images of you that you expect.
Results & Finisher Certificate: Available online after the race
Course Map: http://capitalcitymarathon.org/Map2012.pdf
Course Viewing Sites: http://capitalcitymarathon.org/Map2012_Viewing.pdf
Course Certification:
Marathon: USATF WA06011 BL
Half Marathon: USATF WA06028 BL
Running With Boston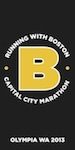 We will come together at the Capital City Marathon, Half Marathon, and Five Miler on May 19th to remember those who died and to support those who were injured at the Boston Marathon. We will run and walk in their memory and will not allow fear to deter us.
The Capital City Marathon Association will provide ribbons to runners and volunteers at packet pickup on May 18th and 19th. We will collect donations for The One Fund Boston, http://onefundboston.org, to help the people most affected by the tragic events that occurred in Boston on April 15, 2013.
Personalize your hard earned marathon or half marathon Finisher Medal with an iTaB. The iTaB is a small plate, engraved with your Name and Finish Time, which fits neatly in to the back of your medal...on completion of your Race the iTaB will be mailed to you.
Marathon Finisher Medal
Half Marathon Finisher Medal
The Bakers Dozen Series is comprised of 13 Half-Marathon events that are produced by Northwest-based organizations (AKA "Home Baked Miles"). These events give back to their local communities in numerous ways, including the support of local charities, children's programs, high school sports programs, as well as health and fitness initiatives across the NW.