Run Fair
Course
Viewing Sites
Directions
Training Group
Weather Forecast
Sponsors
Contact Us
Congratulations to all participants in 2016!
Save the date for next year's race on May 21, 2017!
2016 RACE RESULTS

Marathon

1/2 Marathon

5-Mile

Kids Run Top 10
CCMA is proud to celebrate with our event winners!
Overall Winners
Masters Winners
(age 40+)
Grand Masters
Winners (age 50+)
Marathon
Jesse Stevick
(Olympia, WA)
2:36:11
Lonnie Hetzler
(Olympia, WA)
2:55:31
Vince Davis
(Tacoma, WA)
3:20:32
Linda Huyck
(Lacey, WA)


3:04:10
Amanda Hoskins
(Puyallup, WA)
3:23:28
Cindy Bujacich
(Gig Harbor, WA)
4:05:04
Half Marathon
Daniel Womac
(Seattle, WA)
1:23:17
Zach Schade
(Tumwater, WA)
1:24:22
Bob Brennand
(Olympia, WA)
1:25:07
Jo Markham
(Olympia, WA)


1:25:42
Mari Karri
(Sammamish, WA)
1:33:32
Roxanne Bauman
(Olympia, WA)
1:42:55
Five Mile
Kieran Sprague
(Olympia, WA)
28:33
Craig Dixon
(Olympia, WA)
31:39
Earl Zamora
(Olympia, WA)
33:33
Annie Wetterhas
(Shawnee, KS)
34:36
Wendy Ohaver
(Olympia, WA)
37:33
Karen Schoessel
(Olympia, WA)
40:05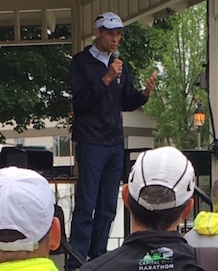 The Capital City Marathon Association is thrilled to have hosted Olympian Jeff Galloway this spring in celebration of the 35th year of our event. We wish to express our thanks to Jeff for graciously sharing his experience and knowledge with the Olympia running community!



Event Photography
Provided by Evan Pilchik Photography.
Capital City Marathon is proud to announce that race photos will be free to participants as a digital download thanks to support from South Sound Running! This year, my EP events will be on the race course for the marathon, half marathon, five miler, and kids run taking the same fun and exciting images of you that you expect. The Capital City Marathon will allow you to download your images for free!

2016 Photos
- Marathon, Half Marathon, Five Mile


- Kids Run
---
The 35th running of the Capital City Marathon (CCM) was held on May 15, 2016. See the Celebrating 35 Years page to learn about what makes this race so special.
---
Welcome to Capital City Marathon, one of the best marathons in the Northwest. Located in fun and friendly Olympia, Washington, we feature a beautiful course with rolling hills, enthusiastic volunteers, a festive post-race event with food, music, massage and swag. We are a Boston Marathon qualifier with a loyal following of marathon veterans, newcomers and everyone in between.
Capital City Marathon Association (CCMA) is a non-profit all volunteer organization.
---